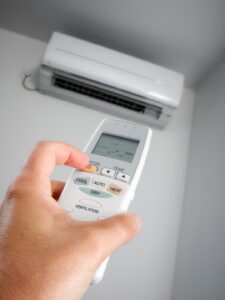 Your ductless mini split is a major boost to your home's energy efficiency, but it still needs maintenance just like other HVAC systems. Thankfully there's a lot less to manage, so some maintenance tasks can be carried out by homeowners.
You should still schedule annual heating maintenance in Benton, but in the meantime, you can keep your ductless mini split in working order with these maintenance tasks. Set reminders and stay on a somewhat regular schedule to help reduce the amount of future repairs your mini split may need.
Keep the Exterior of the Unit Clear
You should regularly clean dust and debris from the outside of the unit. Your mini split was designed to intake a specific amount of air to operate properly. Dust and debris getting in the way of that will lower its energy efficiency. Wipe it down every four to six weeks to keep it clean and dust-free.
Clean the Filter
The importance of airflow can't be overstated. When it's time to clean the outside of your unit, do yourself a favor and clean the interior by removing the filter and cleaning it. Return the clean, dry filter back into your ductless mini split and turn it back on. You can also perform this task once every four to six weeks for optimal efficiency.
Double-Check Nearby Obstructions
Give your mini split some space. Depending on where your unit is located, it may have furniture or objects around it that reduce its ability to quickly intake a sufficient amount of air. Try to leave your mini split's air intake as open and clear as possible.
Which Tasks Require a Professional Touch?
We've talked about what you can do for basic maintenance to help your ductless mini split, but without the right tools and experience, you can't do everything. These are tasks you can expect from professional maintenance.
Cleaning the coil. Dust builds up on your coil and lowers energy efficiency while increasing wear and tear on your unit.
Removing dust from the condenser. Dust buildup insulates the condenser, which makes your mini split work harder than it needs to.
Clearing out any and all pipes. It's not uncommon for mold and debris to form in your pipes; these need to be cleared out regularly.
Unit inspection to spot potential problems. If your unit has a failing part that hasn't hit the point of total breakdown, a technician will be able to spot it and help figure out a solution.
If you aren't comfortable disassembling various parts of your mini split, or simply don't have the time, you should contact a professional.
Maintain it, but Still Call for Maintenance
You're doing a great job at maintaining most of your ductless mini split, but some tasks need to be carried out by professionals. When it's time to maintain the mechanical elements of your mini split, that's where we come in. Keep your annual maintenance schedule and continue to enjoy your ductless mini split without compromise.
Contact Moon's Air today for ductless mini split maintenance. Moon's Air has provided whole-home comfort since 1971. Call us for service today—it's good to be Mooned!