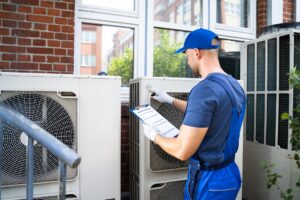 You're ready to hire a local AC company to install that new heat pump or maintain your mini splits, whatever it may be, but you don't know if they're the right pick for you. Let's help you with that.
Finding the best AC companies in Bossier City comes down to asking the right questions, recording the responses, and comparing notes to find out which one aligns with your preferences and requirements as best as possible. Here's what you should ask.
How many years have you been in business?
New HVAC companies come and go, and sometimes experienced technicians start their own company, so the experience is there even if the company age is not. This is when you get a brief summary of experience and successful years in business serving the community, and that's a good place to start.
Are your technicians certified?
There are many HVAC certifications, and not all technicians will have them, but it's still a good idea to have some level of certification. Ask about that when you call or submit a form online.
Are all of your technicians and services insured?
If a technician gets harmed on the job, you don't want to be held liable–you're just trying to get your air conditioner serviced, after all. Ask about liability protection and whether or not they're insured so you don't take the fall for mistakes on the job.
What brands do you sell and service?
Do you have a specific air conditioner brand in mind that you want installed? If not, and you already have one installed, you can ask if that company services the brand of your AC so you know if they can help or not.
Do you have financing options available?
Let's not beat around the bush: HVAC can be expensive. It's necessary, but that doesn't mean that sticker shock isn't a thing. Ask about financing options and take down every detail. When you sign on for a commitment like this, you want transparency and to not be shocked at the first bill when it comes through.
What warranties or guarantees do you offer?
There's generally a warranty on labor and parts. If a technician comes out to your home at 9:00 AM to fix your AC, and it's on the fritz again by 2:00 PM, something was missed. It's an error, but one that the HVAC company should honor and return to fix without an additional charge.
Ask Over the Phone
While we're always on top of our website content so that it reflects our current position, such as financing or our maintenance page, not all HVAC companies do. When you get information over the phone, there's no excuse for an outdated web page when they say they no longer have that special offer you found online. Speak over the phone and take notes.
We're at the Ready
We're ready to help with your next air conditioning project, or even just maintain your current HVAC system. Give us a call or contact us today to ask about services and schedule your first appointment as early as possible.
Contact us today to schedule your next air conditioning service as soon as possible.