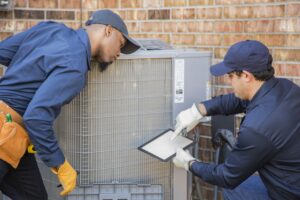 Your air conditioner doesn't have to completely bite the dust for you to replace it. You've had that AC for a while, and it's not unreasonable to assume it's lost its efficiency as the years have gone by. The point is, there's more than a few reasons to get AC installation in Shreveport simply to replace your current AC for an upgrade.
You're Planning a Home Addition
You're ready to expand your home, but right now your AC is only powerful enough to handle the square footage you already have. While it would be nice to simply add another room and call it a day, you have to consider how much your current AC can properly handle.
When your AC was installed in the first place, it was fitted for your available living space. You don't want an AC that's too powerful, or one that's too weak (for obvious reasons), but when you expand your home, it changes the game. This is the perfect time for an upgrade for both efficiency and capacity.
Your Energy Bills Are Going Up
This happens as your current air conditioner starts to give out. Take a good hard look at your AC's age, and if it's around or beyond the ten-year mark, efficiency just won't be what it used to be. That's for certain.
If you're keen on regular maintenance, and you do everything you can to save on cooling costs, but your bills are still going up, it's just proof that your AC is aging out. Even if you do everything right, this will still happen eventually.
To Increase Your Property Value
Your house has been updated, your lawn is landscaped to perfection, and you're ready to sell–but that old air conditioner is definitely holding you back. Most homebuyers want something that's completely move-in ready, and that means updated appliances.
You can increase your asking price by more than the total cost of your new AC installation simply because it saves time and stress for the prospective homebuyers. If you want to spike that property value before this little piggy goes to market, this is how you do it.
Take Advantage of Government Incentive Programs and Rebates
The Inflation Reduction Act is one great example of this. It rolled out in early 2023, and offers an extremely long timespan for homeowners to upgrade their HVAC systems. You could upgrade from an AC to a heat pump and pay an extremely small price with instant rebates.
The best part of this is that you'll be lowering your monthly utility bills and saving money on the cost of the installation. Money that you don't have to pay back. Always check for state and local programs as well.
Upgrade Your AC Today
If your AC is already older than ten years, it's reasonable to replace it before you have to endure more frequent breakdowns and problems. It saves you stress, and will lower your monthly utility costs at the same time–it sounds like a win-win if you ask us.
Moon's Air has provided whole-home comfort since 1971. Call us for service today—it's good to be Mooned!