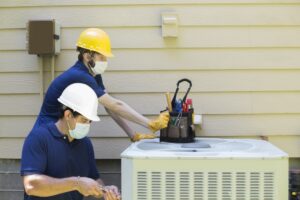 Installing a new air conditioning system is a pretty big investment in your home. It's important to look at the right AC companies and narrow them down right from the start. Plan this ahead of time, and you'll be able to choose from the best instead of just whoever's closest or quickest.
There's a sea of companies vying for your attention, including us, so how do you know who you should pick? Let's try to make that process as simple as possible for you so you get the right installers for your specific project.
Start With a Local Search
Local companies know the area and know what your neighbors go through with their air conditioning systems. They'll have the best knowledge on how to help you get the best air conditioner. Local companies (like ours) build a reputation over time. Look for reviews and ask your friends and family about who they used for their air conditioning installation. This helps you:
Determine if a company is under new management and the experience may differ for you.
Use unfiltered information to get real reviews (if you're skeptical about online reviews).
Find out if the customer service sounds right to you and what you need.
What to Look for in an AC Company
Above all else, you should look for a company who values your comfort over profit. Yes, this is a business, but at the end of the day, we got into this industry to make a difference–not nickel and dime. This is where those word-of-mouth reviews come into play. If a company sounds like they're offering you the moon and stars, but its reputation says otherwise, it may not have your best interest at heart.
Request Multiple Quotes
Here's the thing–every AC company has something to offer you. Let's not pretend that money isn't a factor, but let's also not gloss over the fact that the old adage "you get what you pay for" tends to be true more often than not. Weigh your options, keep cost in mind, but don't let it define the entire project. Ask for multiple quotes, including:
Labor Costs: Technicians have to make money too, right? A well-paid technician gets the job done properly, so while labor costs might startle you at first, it's important to understand where they're going.
Installation Price (Plus Unit Cost): There's the installation price, then there's the cost of the unit. Labor is typically separate because that's what pays the technician, but the installation cost goes to the business. Ask about it all.
Additional Fees: Some companies hide fees under the fine details. Be sure you ask about additional fees so you get a clear, straight answer on the total project scope.
Don't Settle for Less
With proper maintenance and care, you'll have this air conditioner for the next 10-15 years. But a poor installation can drastically cut down that lifespan. You have to make sure it's done properly, right from the start.
Call us today to schedule your air conditioner installation so you aren't left with uncertainty and questions in the end. We've been servicing the area for nearly 50 years.
Moon's Air has provided whole-home comfort since 1971. Call us for service today—it's good to be Mooned!