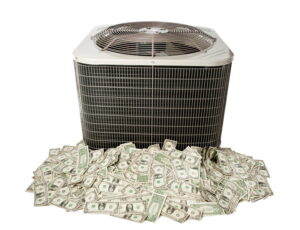 Spring is the time of year when people arrange to have their air conditioning systems maintained so they're ready to take on the rigors of the approaching summer season. But for some people, this spring is when they'll need to send an aging, inefficient, and unreliable AC to the scrapyard and arrange for an air conditioning replacement in Bossier City, LA. If you're in this situation, you can depend on our excellent technicians at Moon's Air to help make the job as fast and smooth as possible.
Getting a new AC brings with it several important questions, all of which we'll help you answer. We want to address one upfront because customers often ask about it: What do the efficiency ratings on air conditioners actually mean?
Efficiency Made Simple
When talking about air conditioners, efficiency measures how much cooling a unit can produce compared to the amount of electricity it uses. The more efficient the unit, the less electrical power it draws on to do its job. Older air conditioners used to cost enormous amounts to run, while the newer systems with improved efficiency can do the same cooling job (or better) while costing less to run.
Air conditioners have two different efficiency ratings: SEER and EER. They're usually listed together with a slash between them. The higher these numbers (SEER is always higher than EER), the more efficient the unit.
How EER and SEER Are Measured
EER stands for energy efficiency ratio and SEER for seasonal energy efficiency ratio. As the names imply, they're similar. The major difference is the conditions under which they're measured. Both of them represent a ratio of the amount of cooling produced (in BTUs) to the amount of electricity consumed (in watt-hours).
EER is determined as a single test of the AC under a specific temperature and humidity. SEER is determined over multiple tests and varying conditions to simulate an entire summer season of work. In short: EER is a snapshot of efficiency, and SEER is an average of efficiency.
What to Look for in SEER and EER
Something important to know at this point: the efficiency rating isn't the only factor when it comes to selecting a new AC. A high-efficiency system is not a guarantee that you'll save money. The highest-efficiency AC won't mean much if the unit isn't right for the house and has to run continuously. Also, the higher the efficiency of an air conditioner, the more expensive the unit. Depending on your budget, a mid-efficiency AC may be the best choice—and it will still save you money compared to your older AC.
However, we recommend only purchasing air conditioning systems that have the ENERGY STAR label. This means the unit meets the standards for energy efficiency set by the US Department of Energy. Currently, an AC must have SEER/EER of 15/12.5 or higher to qualify as an ENERGY STAR unit. That's a good baseline from where to look at the AC you want. Some high-efficiency units can have SEER in the 20s.
If you have any questions about AC efficiency, speak to our technicians. We'll steer you toward the best option for your home and budget.
Moon's Air has provided whole-home comfort since 1971. Call us for service today—it's good to be Mooned!