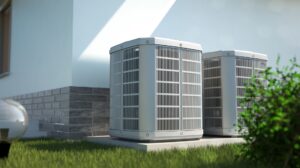 You're not limited to central air conditioners and window units anymore. These days, you have plenty of modern options that offer great efficiency and a wide array of various benefits that central AC simply doesn't offer.
When you need AC installation in Bossier City, you can choose a different machine than the one you have in your home right now. Let's walk you through the different types of air conditioners and help you choose your next one.
Central Air Conditioning
You know them, you might love them—they're the most common type of air conditioning in the country. Central air conditioners use ductwork to deliver cool air throughout your home, but they're not as simple as they once were.
You can now outfit them with zone control systems and smart thermostats to get even more out of your central AC system as well. While they have their inefficiencies, central AC is still a reliable option, and if you're replacing an old central unit, this is the most cost-effective way to do it. While upgrades to heat pumps and ductless mini splits are nice, the upfront cost can be off-putting.
Heat Pump
Heat pumps can be up to 50% more energy efficient than central air conditioning systems. These systems still use ductwork, and you can actually hook one of these up to existing ductwork if you're transitioning away from a central air conditioning system.
Heat pumps work by transferring heat from one area to another, essentially pumping it from one place to the next. Despite the name, these systems are also air conditioners—a real two-in-one. The process is reversed to pump heat out of your home and cool the indoor air in the same way that your air conditioner does.
Ductless Mini Split
Not sure that you want to go with central, but you like the feel of it? Ductless mini splits might be the way to go. These systems have an indoor unit that's connected to an outdoor condenser through the wall.
As the name suggests, you aren't using ductwork: instead, the condenser directly connects to the controller and pushes cool air into the home. No silver tubes in the attic and all the problems that come with them.
You can use multiple ductless units at once, so the living room can be a cool and crisp 68°F if you want, while your mother-in-law keeps her room at 74°F with her own ductless mini split controller. No more fighting over the thermostat, and everyone can have their way. Just beware the high upfront cost for installing multiple units at one time.
The Choice Is Up to You
With so many different types of air conditioners to choose from, it's important to not only weigh the pros and cons, but the cost. Find out what works for your budget and family needs, but don't just focus on installation price: think about long-term energy consumption and extended use for the next 10–15 years. That should help you make the right decision.
Moon's Air has provided whole-home comfort since 1971. Call us for service today—it's good to be Mooned!