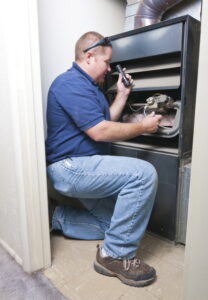 The weather outside is still warm, but when the calendar flips over to September, everyone knows it won't be long before the chill arrives—and then suddenly it's winter. You may be running your AC on a regular basis, but September is a good time to turn your thoughts to preparing your heating system for cold weather ahead.
September is the ideal month to take the most important step to get your heater in shape: scheduling heating maintenance with HVAC pros. This doesn't have to be a big burden for you. In fact, we've made it as easy and rewarding as possible with our Proactive Savings Agreement. When you sign up, you'll have quality care for both your heater and AC around the year, plus several great membership benefits.
The Perks of the Proactive Savings Agreement
The most important part of our maintenance program is, well, maintenance. But our Proactive Savings Agreement offers some terrific membership perks that make it an even better value:
VIP customer status: go to the front of the line when you need repairs
A lifetime service repair guarantee on any repair we make
Reduced diagnostic charge: from $89 to $49.
Free leak search on one component
1st pound of refrigerant is free
$250 Moon bucks to use for offsetting equipment purchases if you upgrade
Always receive the lowest rate possible, a 20% savings
Heating Maintenance Is an Annual Necessity
We can't stress this enough, and one reason we're encouraging you to have maintenance done early in the fall is because it makes it less likely you forget to do it later when the end of the year crush sets in and you have too many tasks to get done. Trust our years of experience: you don't want your heater to miss annual maintenance, even once.
Why is this maintenance so important? Your heating system was designed with maintenance in mind. When you look at the estimated service life for your heater, that number takes maintenance into account. Without maintenance, a heating system will not get to its full potential lifespan, and may even fall short of it by half! It will also start to run down early, and that will force the heater to drain more power to operate, raising your monthly energy bills.
Maintenance also prevents repair issues—the majority of them! More than 50% of the repairs heating systems usually need over their service lives are due to maintenance neglect. When you have your maintenance kept current, you eliminate half the repair costs as well as the inconvenience of a heater that stops working.
But probably the biggest benefit of heating maintenance is that it keeps you and your family safe. Most homes use natural gas for heating, and without routine inspections from professionals, these heaters can quietly develop dangerous malfunctions. Maintenance is an important safety precaution, and it will give you peace of mind for the whole winter.
To find out more and to schedule heating maintenance in Blanchard, LA, reach out to our team.
Moon's Air has provided whole-home comfort since 1971. Call us for service today—it's good to be Mooned!