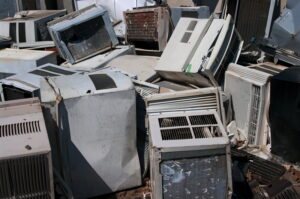 And you thought the big fall question was, "What am I going to dress up as for Halloween?"
We aren't diminishing the importance of your Halloween costume choice, but autumn is also time to take stock of your HVAC system. You'll need to schedule professional maintenance for the heater to ensure it works at peak performance through the winter. You'll also need to pay attention to your air conditioner, which just ran through a gauntlet of hot weather. In fact, it may be its last summer, and if you need a new AC installation in Shreveport, LA, fall is a good time to have it completed.
Wondering how to tell if this was your AC's final go-around? We can help! Follow us below, and when you're ready for a professional opinion, call our team.
The AC's Age
The age of a central air conditioning system is a good place to start when analyzing if the AC is ready to retire. The standard air conditioner has a service life of 10–15 years before it starts to decline. If a system receives regular annual maintenance and prompt repairs as necessary, getting to 15 years shouldn't be difficult. However, lack of maintenance can cut down a system's service life by half. Keep the service record of your air conditioner in mind when considering its age. In general, an AC that's been in service for more than 15 years is ready for a replacement. A new AC will help avoid the other problems we'll look at below.
The Cost of Running the AC
You can expect your summer utility bills to remain steady from year to year. A well-maintained AC will keep most of its original efficiency through its service life until the end, where it will start to cost more to run because of irreversible wear and tear. We advise you to look at your history of summer utility bills to notice if there's a pattern of rising costs. If the AC is in the replacement age range, these increases are a warning of a cooling system that is on the way out. 
The Number and Cost of Repairs
An air conditioning system shouldn't need to have repairs done each year. That's a sign of a system in poor shape. Those repairs also shouldn't cost more than half the price of getting a new system. That's a big waste of money keeping an AC running that only has a short lifespan left. If repairs are turning into an annual—or worse, a biannual—tradition, then a replacement air conditioning system is the best option.
The AC's Performance
Finally, has your air conditioning system let you down when it comes to summer comfort? Hot spots in the house, inadequate cooling that forces you to keep lowering the thermostat, or an AC that has to run all the time to meet your comfort needs: these are all flashing red signals of a system that needs to go to the recycling yard.
Moon's Air has provided whole-home comfort since 1971. Call us for service today—it's good to be Mooned!