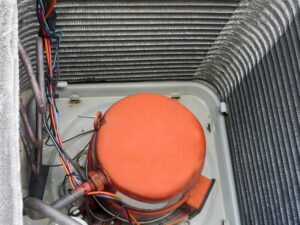 It's the scariest phrase to hear in connection to an air conditioning system: "the compressor is fried." Once the compressor breaks, the conventional wisdom is that the whole AC has come to its end and it's time to replace it with a new one. Compressors are expensive pieces of equipment, the heart of air conditioning systems, and often the cost of getting a new one is too high to justify the expense, especially if—as is often the case when a compressor dies—the air conditioning system is old.
But there are no absolutes when it comes to a dead compressor. Sometimes there's more to the story than an automatic replacement. We've handled air conditioning services in Blanchard, LA for more than half a century, and we've often helped people with the trouble of a broken compressor. Below, we'll tell you a bit more of what you need to know about the fate of your AC when the compressor dies.
It's worth replacing a compressor that's under warranty
There is a situation where replacing a compressor is usually the less expensive path forward, and that's if the compressor dies when the air conditioning system is still under the manufacturer's warranty. Most warranties cover parts for 10 years, and this will make a replacement compressor far less costly. An air conditioner that's less than 10 years old probably has several more years of effective service left in it, so replacing a faulty compressor is a good choice.
You can replace just the condenser … although we rarely recommend this
The standard central air conditioning system for homes are split systems: the indoor evaporator coil and air handler, the outdoor condenser. The condenser contains the compressor, condenser coil, and exhaust fan. In case of a compressor failure, you can choose to have only the condenser and its components replaced rather than both indoor and outdoor parts.
This is less expensive than a whole-system replacement, but we don't recommend it. There's a risk of getting a mismatched air conditioner where the indoor and outdoor parts don't work well together, leading to low efficiency. Just replacing the condenser doesn't come with a new warranty, which is one of the most valuable parts of purchasing a full new AC.
The full air conditioning replacement
To replace the entire air conditioning system means putting in a new condenser and evaporator coil. (The blower fan doesn't have to be replaced.) Doing this will get you a fresh warranty along with a matched system that will work at high efficiency and effectiveness. This is the best choice if the compressor isn't under warranty—you'll save much more in the long run.
Do it all: replace the HVAC system
You have one more option when the compressor of the AC dies, which is to replace the entire HVAC system. Along with the air conditioner, you'll have a new furnace and blower. Obviously, this is the most pricey choice, but it makes sense in situations where the heating system is also coming near the end of its service life. Having your heating and cooling replaced at one time is convenient and cost-effective. 
Moon's Air has provided whole-home comfort since 1971. Call us for service today—it's good to be Mooned!