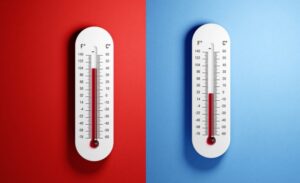 Heat pumps offer many great advantages to homeowners. But the best one, the one that made most people want to get a heat pump installed in the first place, is that heat pumps can work as both air conditioning and heating systems. All it takes to change a heat pump from one mode to the other is a thermostat adjustment.
Except when, for some reason, a heat pump doesn't change mode. Heat pumps can run afoul of malfunctions, just like any other piece of HVAC equipment, and if your heat pump is trapped in cooling mode or it's only sending out room temperature air, you'll wonder if you need to call the Moon's Air team for heating repair in Haughton, LA.
We'll take a look at why you may have a heat pump in this predicament.