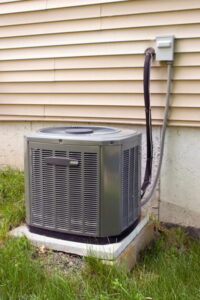 In our last post, we talked about the importance of having regular maintenance for your air conditioning system during spring and encouraged signing up for our maintenance program. There are many excellent reasons to have these annual inspections and tune-ups for your AC, and one of the most important is that it allows you to know if your air conditioning system is coming to the end of its service life. You'll have enough time to arrange to have the old system replaced before the main heat of summer arrives.
Let's talk in more detail about this: replacing an air conditioning system is a major step, and it's one you want to make sure you do at the right time and that your new AC is the ideal one to meet your needs. How can you know that getting a new air conditioner is the right next step?
Professional Opinion
Since we already mentioned it, we'll put this once first: the best way to know if your current AC is ready to send to the recycling yard is to consult with HVAC professionals. If you think you may need to replace the AC in the near future, ask our technicians during maintenance for their opinion on whether the system can make it for a few more years without costing you in low efficiency and/or high repair costs. Our technicians are NATE-certified and will give you honest feedback. If they think your system can go a few more years without problem, they'll tell you.
General Age
The average service life of a central air conditioning system is from 10 to 15 years. A system that's older than 15 years is usually ready to be replaced, even if it otherwise appears to be working fine. This is the point where an AC is at the most danger of starting to lose efficiency, suffer from increased repair needs, or break down entirely.
The High Cost of Repairs
No AC system should need to have repairs annually. A system that is having this much trouble is costing too much to keep around. No individual repair should be more expensive than half the price of getting a new system. Keep these facts in mind whenever your AC needs repairs, because it might be better to have a new system put in.
A Decline in Efficiency
If an air conditioner has professional maintenance each year, it will be able to keep 95% of its energy efficiency for most of its service life. During the last two years of its life is when it will begin to experience a drop in efficiency and see higher bills. When you see your cooling costs rising without any explanation, and your AC is more than 10 years old, it's probably a warning you need to have it replaced because it's in its last two years.
We offer air conditioning installation in Shreveport, LA, and back up our work with a 100% satisfaction guarantee. Contact us to find out if an AC replacement is something to schedule this spring.
Moon's Air has provided whole-house comfort since 1971. Call us today—It's good to be Mooned!